Kear of Argonessen, the rightful owner of the Stormreaver Fresco fragment, told you that Zircon is hiding the fresco in Goldstone Manor at Stormreach Marketplace.
Kear wants you to retrieve the Stormreaver Fresco from Goldstone Manor.

Heroic level: 4
Epic level: None
Duration: short
Heroic XP: ♣444 ♦793 ♥846 ♠900
Epic XP: N/A
Takes place in: Goldstone Manor
Bestowed by: Kear
NPC contact: Kear
Quest acquired in: The Marketplace
Patron: The Coin Lords
Base favor: 2
Free to Play: No
Extreme Challenge: No
I just ran this one with an L11 Arcane Archer and was killed. I had 120 points of "Protection from Energy" and 180 HP. I was one shotted for at least 340 points of damage (I died at -40 HP). This happened on another character as well. So I did some research and this is what I learned...
All the pedestals are trapped except one so...
Start at the farthest point from the note and work back towards it as the majority of the time the one you are looking for is at the far end. Go through your options (Str, Dex, etc.) for each one was you work. They will all say something similar from one to the next except for the one you are looking for. When you see the following you will have found it.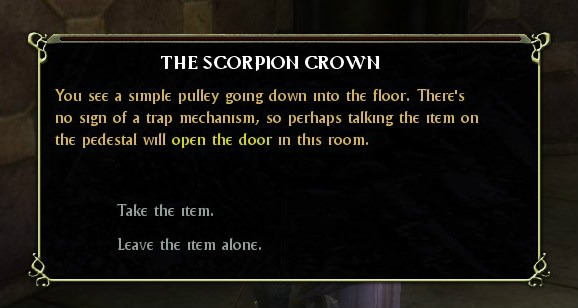 In other words go see Burgundy Tir. You don't get any XP but you do get gear.


Similar topics
---
Permissions in this forum:
You
cannot
reply to topics in this forum